FLEXIVISION
FlexiVision, the machine vision software that controls the operations of FlexiBowl, developed with Cognex Vision Pro library tools.
FlexiBowl can be fitted with FlexiVision, the vision system specially designed for this product that can also be used with third-party machine vision systems, as needed.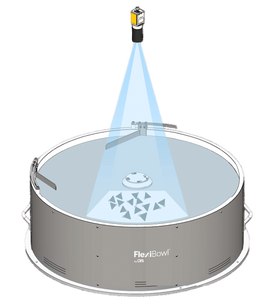 FlexiVision is our vision system, fine-tuned over the years and used to monitor accurately the operations. FlexiVision dynamically controls all FlexiBowl operations, including acceleration, deceleration, speed, angle and activation of the flip mechanism. It handles the bulk feeder algorithm and calibration of the robot.
The system also allows the transfer of coordinates to the robot for actuation of the pick&place sequence and more accurate location of the parts in FlexiBowl.
FlexiVision helps manage communication with the robot and guides preparation of the recipe database. It also supports up to two additional inspection cameras for intermediate levels of control.
HOW IT WORKS
FlexiVision is designed to reduce the time it takes to integrate a vision system into FlexiBowl.
FlexiVision takes a photo once the parts have stabilized on the disc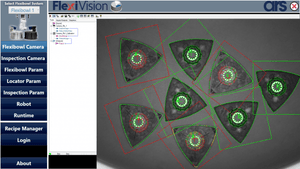 1- Its algorithm locates and identifies the coordinates of the object on the FlexiBowl ;
2- FlexiVision sends the coordinates to the robot responsible for the pick & place operation ;
3- The vision system takes another photo which leads to a new pick & place operation or to movement of the FlexiBowl and consequently triggers the unloading sequence for the bulk feeder, if necessary.

The FlexiVision algorithm signals the quantity of parts in each section of the discs and commands the unloading of new parts. This increases the availability of parts for pick & place and hence leads to more productivity.